2018 AERIAL SPRAY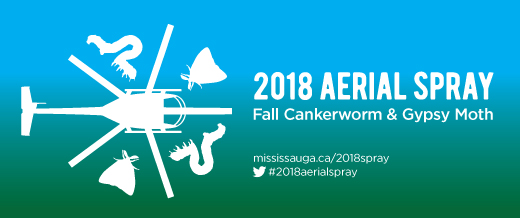 This year, the City of Mississauga will be conducting an aerial spray treatment program to lower fall cankerworm and gypsy moth populations. Successive years of leaf loss due to caterpillar feeding can make trees vulnerable to disease and weather fluctuations.
What areas of the City will be affected?
The spray will treat areas of Mississauga expected to see severe leaf loss from caterpillar feedings. This area is roughly 1,940 hectares (4,794 acres) of private and public land in Wards 1, 2, 6, 7, 8 and 11.
Check to see if your address is in the spray area.
How can I receive updates about the aerial spray?
Sign up for 2018 Aerial Spray News Alerts.
Updates on the aerial spray will also be provided on this webpage and on the City's Twitter and Facebook channels as well as on Parks & Forestry's Twitter, Instagram and Facebook channels.
Open Houses
Forestry staff will be teaching techniques for managing both fall cankerworms and gypsy moths on your property as well as explaining details about the upcoming aerial spray program.
Staff will have extra gypsy moth traps or lures for residents as well as Tanglefoot for residents who bring their own 500 mL take-home container.
Ward 1
Monday, April 16
6:00 p.m. – 8:00 p.m.
Clarke Hall, 161 Lakeshore Rd W
Ward 2
Tuesday, April 10
6:00 p.m. – 8:00 p.m.
Chartwell Baptist Church, 1880 Lakeshore Rd W
Wards 6 & 7
Thursday, April 12
6:00 p.m. – 8:00 p.m.
Erindale Community Hall, 1620 Dundas St W
Wards 8 & 11
Wednesday, April 4
6:00 p.m. – 8:00 p.m.
Erindale Secondary School, 2021 Dundas St W
General Open House
Tuesday, May 1
6:00 p.m. – 8:00 p.m.
Central Library, Noel Ryan Auditorium, 301 Burnhamthorpe Rd W
Questions, Concerns?
The City has prepared an FAQ document that will hopefully answer most of your questions.
If you have additional questions or concerns regarding the 2018 Aerial Spray, please call 3-1-1 or 905-615-4311 from outside Mississauga city limits or send an email message to aerial.spray@mississauga.ca.
Residents with specific medical or health concerns regarding the spray can call Peel Public Health at 905-799-7700.
What are fall cankerworms and gypsy moths?
And, why do they pose a problem?
Fall Cankerworms (Alsophila pometaria)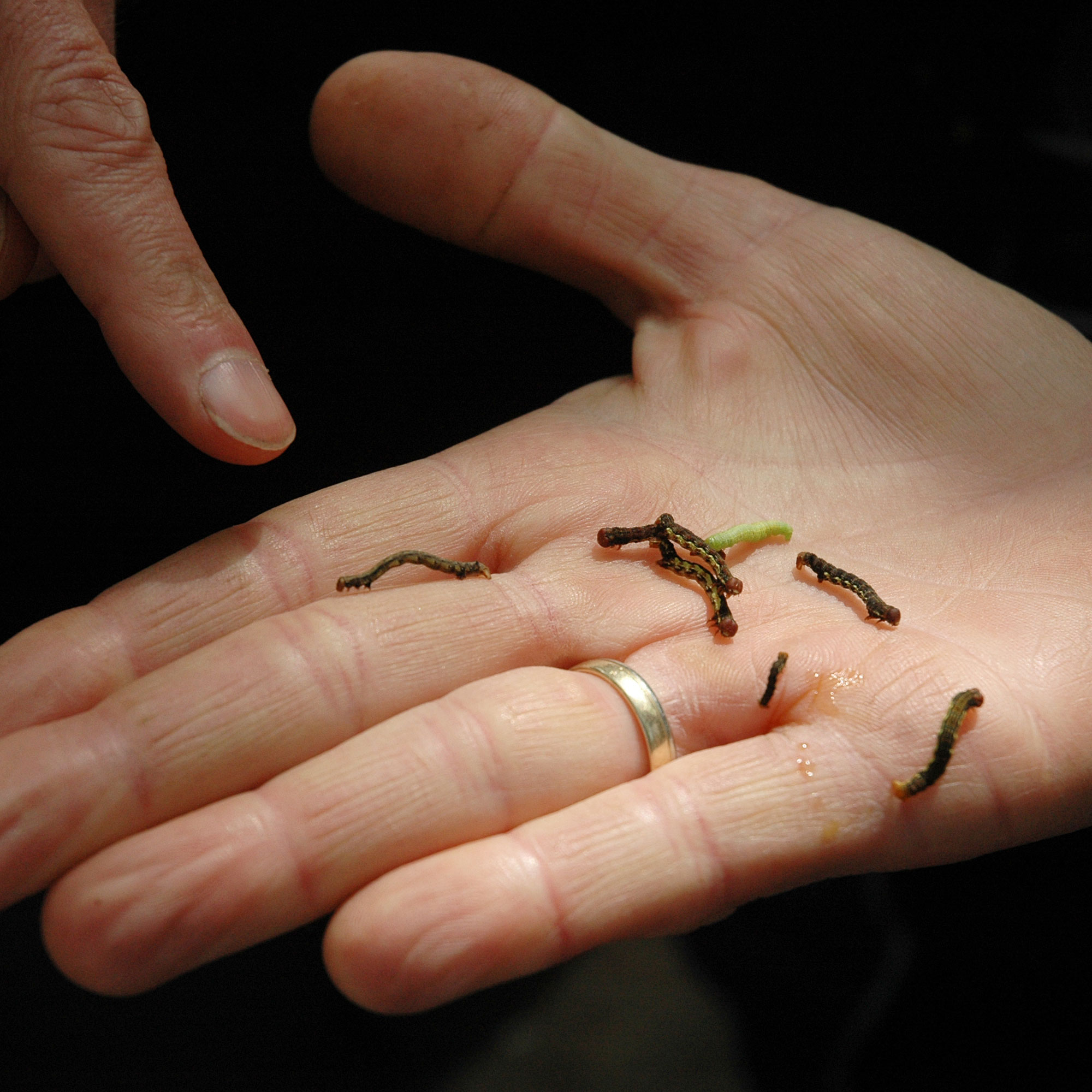 Fall Cankerworms (also known as inchworms) are a native insect found throughout the majority of Canada. Fall Cankerworms undergo natural population increases every 10 to 15 years that last for two to seven years—although, usually no more than four.
They feed on tree leaves from May through mid-June and then go underground to re-emerge in the late fall as moths.
They are known to feed on a variety of trees including apple, ash, beech, elm, cherry, hickory, oak and maples.
Gypsy Moth (Lymantria dispar)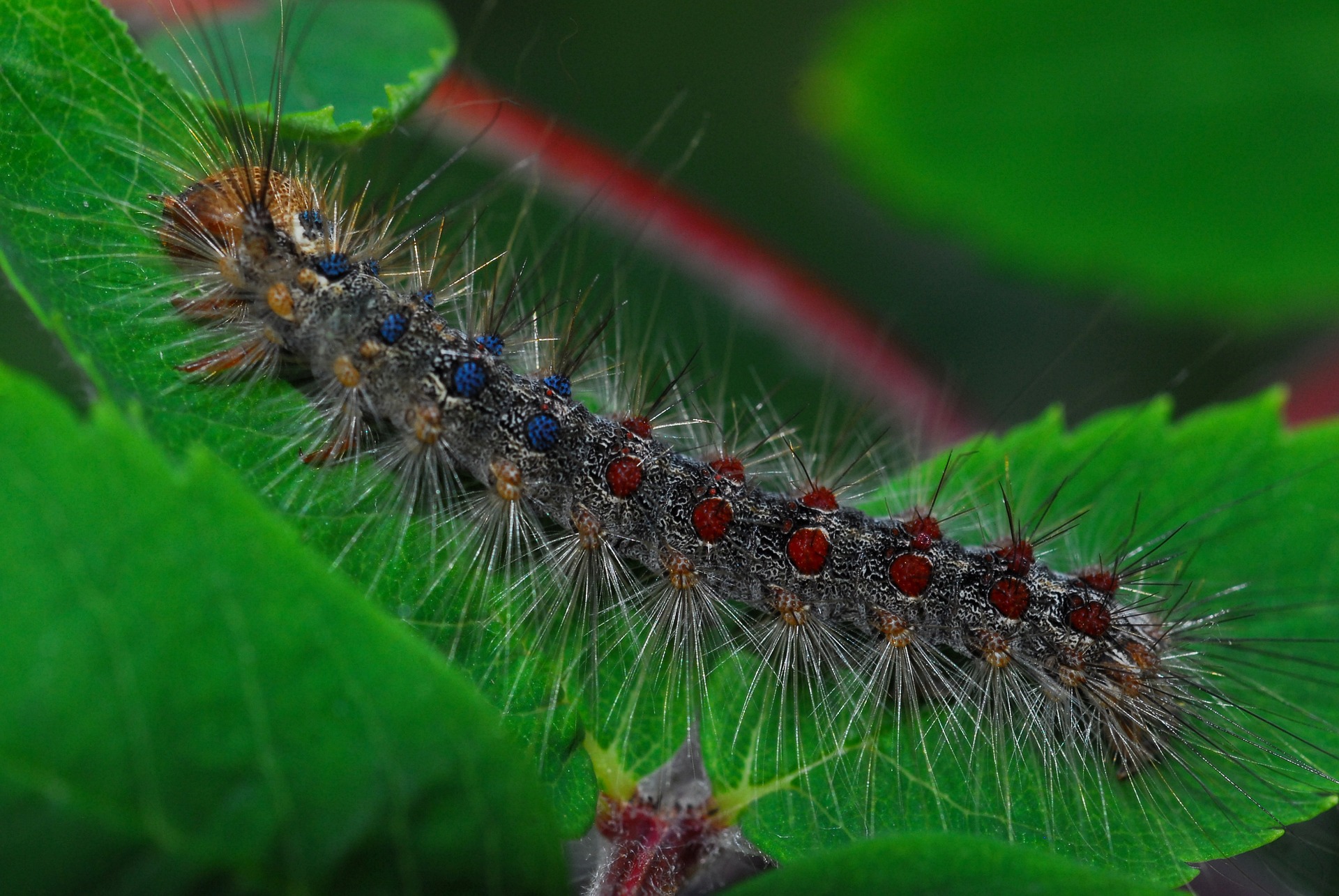 Gypsy Moths are an invasive insect from Europe and Asia. Gypsy Moth caterpillars feed on the leaves of oak and other deciduous trees. Caterpillars chew small holes or completely strip a tree of its leaves depending on its age and population.
Caterpillars are five to 60 millimetres long, dark and hairy with five pairs of blue dots and six pairs of red dots on the back.
What is an aerial spray and how does it work?
During an aerial spray treatment program, highly trained spray specialists use a helicopter to spray an organic pesticide, Bacillus thuringiensis subspecies kurstaki (Btk), over designated areas to reduce the populations of fall cankerworms and gypsy moths. The spray will produce fine droplets that are small enough to stick to the leaves of trees.
Btk produces a protein that is toxic only to the larvae (caterpillars) of specific insect species. When ingested by susceptible insects, the toxic protein molecules destroy the walls of the insect's stomach. The insect usually dies within two to five days.
Although the aerial spray won't eradicate all fall cankerworms and gypsy moths, it will lower populations to a more manageable level.
When will the aerial spray occur?
The City has contracted Zimmer Air Services to implement the spray sometime between April 23 and June 10, 2018, between 5 and 7:30 a.m. The spray dates will be determined by a number of ecological factors (e.g. leaf size, caterpillar size, weather) and will be communicated to residents at least 48 hours prior to the commencement of the spray.
Does the aerial spray pose any health concerns?
The health and safety of residents and the long-term health of Mississauga's tree canopy continue to be top priorities. Region of Peel – Public Health is not anticipating human health impacts associated with the aerial spray program for cankerworm and gypsy moth caterpillar.
Btk has been extensively studied by the Pest Management Regulatory Agency and the US Environmental Protection Agency (EPA). Btk is approved by Health Canada for aerial use over urban areas and poses minimal risk to human health when used as directed.